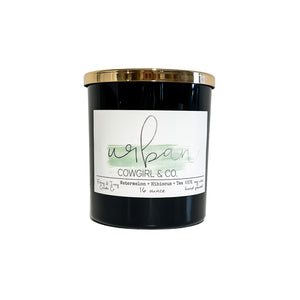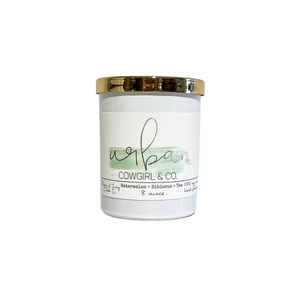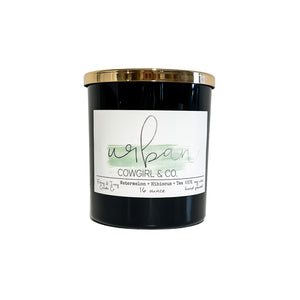 Urban Cowgirl Watermelon Hibiscus
Let's all give a big round of applause for Linnden at Urban Cowgirl. Her desire of mixing watermelon, hibiscus & refreshing white tea was all thanks to her internal craving. It's sweet, fruity & refreshing all in one candle. The perfect scent for the season to make you feel energized, light hearted & a little wild!
Make sure to check out her kimono's at www.urban-cowgirl.com to see where the rest of her creativity flows!
Use promo code FREESHIP for standard shipping orders over $120 within North America!
Each Ebony & Ivory candle is a unique scent created for fragrancing the home. The candles are hand crafted in Canada using phthalate free fragrance oils & 100% soy wax. 
Cotton Wick Candles:
Allow the candle to burn until wax melts out to all of the edges of the candle. This is so very important so your candle does not tunnel!

The recommended burn time is 1-2 hours per burn session. 

Avoid burning candle where there is a ceiling fan, air conditioner or breeze. This can affect the flame and make him potentially sad.

Ensure wick is trimmed to 1/4" after each burn session to prevent soot build up on containers. If you are seeing black soot, it's a clear indication to trim your wick.

Burn only on a stable heat resistant surface for no more than 2 hours at a time. 

Do not move candle while burning as container may be hot to touch.

Discontinue use when 1/2" wax remains at the bottom of the container. 
8 oz Candles - 40-50 hour approximate burn time.
16 oz Candles - 80-100 hour approximate burn time.