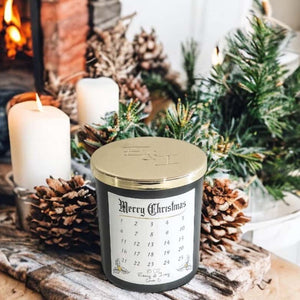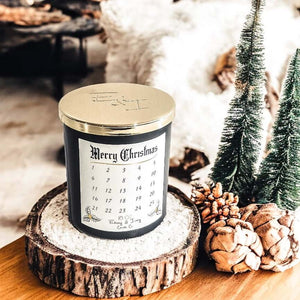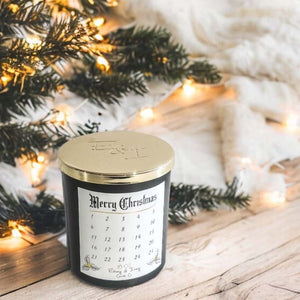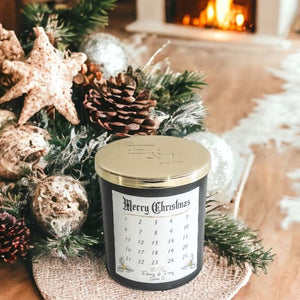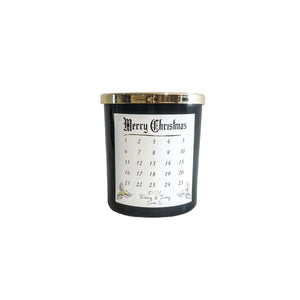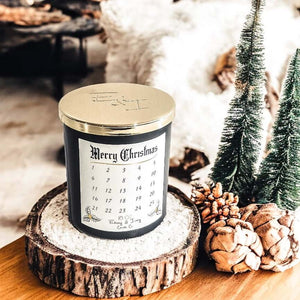 Christmas Advent Candle
This most perfect and magical Christmas candle is a true embodiment of the holiday spirit. It has a deep, inviting scent that instantly transports you to a cozy winter wonderland. This candle's fragrance is a harmonious blend of spicy clove, warm cinnamon, and a hint of sweet cranberry, creating a comforting nostalgic atmosphere.

This candle's wax shimmers with a subtle, golden sparkle when you burn it, reminiscent of twinkling holiday lights.
✨Very very verrrrry limited edition✨
 Each Ebony & Ivory candle is a unique scent created for fragrancing the home. The candles are hand crafted in Canada using phthalate free fragrance oils, 100% soy wax, and sustainable cotton wicks, to scent your house with a clean burn, without putting harsh toxins into your air
Cotton Wick Candles:
Allow the candle to burn until wax melts out to all of the edges of the candle. This is so very important so your candle does not tunnel!

The recommended burn time is 1-2 hours per burn session. 

Avoid burning candle where there is a ceiling fan, air conditioner or breeze. This can affect the flame and make him potentially sad.

Ensure wick is trimmed to 1/4" after each burn session to prevent soot build up on containers. If you are seeing black soot, it's a clear indication to trim your wick.

Burn only on a stable heat resistant surface for no more than 2 hours at a time. 

Do not move candle while burning as container may be hot to touch.

Discontinue

 

use when 1/2" wax remains at the bottom of the container. 
8 oz Candles - 40-50 hour approximate burn time.
16 oz Candles - 80-100 hour approximate burn time.