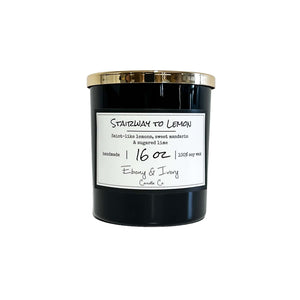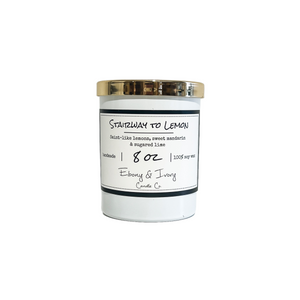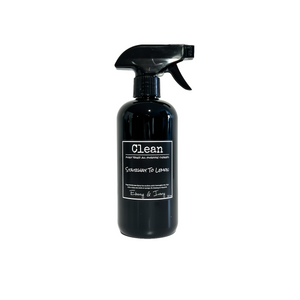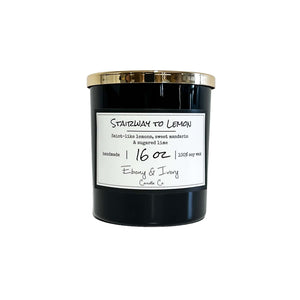 Stairway To Lemon
The only thing here that matters is this... if you love Led Zeppelin and lemons... this candle is for you.
We really can't get over how perfect this candle turned out. Scented with saint-like lemons, sweet mandarin & sugared limes! Citrusy, sweet & holier than thou. 
All Purpose Cleaner
Usage Guidelines: Spray the surface until thoroughly wet. Wipe
with a clean wet cloth or sponge. No rinsing is required.
Biodegradable and Eco-friendly, our all-purpose cleaner has a balanced pH and is a gentle yet potent cleaning agent that cuts through stains, dirt, and grease without damaging surfaces. This premium concoction is chemical-free, vegan, and perfect to use for all your house-cleaning needs.
• Plant Based
• Gentle & effective
• SLS & SLES, Paraben & Silicon free
• Free of dyes
• No petroleum or petrochemical-based ingredients
• No glycol ethers
Each Ebony & Ivory candle is a unique scent created for fragrancing the home. Our candles are hand crafted in Alberta, Canada using phthalate free fragrance oils, 100% soy wax, and sustainable cotton wicks, to scent your house with a clean burn, without putting any harsh toxins into your air  
Cotton Wick Candles:
Allow the candle to burn until wax melts out to all of the edges of the candle. This is so very important so your candle does not tunnel!

The recommended burn time is 1-2 hours per burn session. 

Avoid burning candle where there is a ceiling fan, air conditioner or breeze. This can affect the flame and make him potentially sad.

Ensure wick is trimmed to 1/4" after each burn session to prevent soot build up on containers. If you are seeing black soot, it's a clear indication to trim your wick.

Burn only on a stable heat resistant surface for no more than 2 hours at a time. 

Do not move candle while burning as container may be hot to touch.

Discontinue

 

use when 1/2" wax remains at the bottom of the container. 
8 oz Candles - 40-50 hour approximate burn time.
16 oz Candles - 80-100 hour approximate burn time.