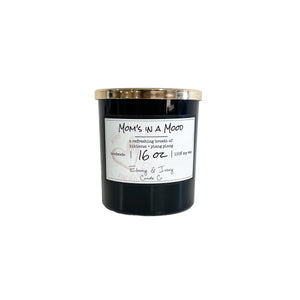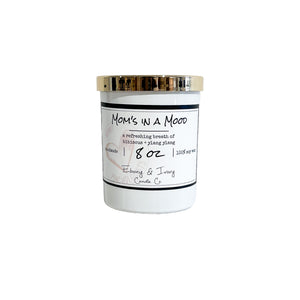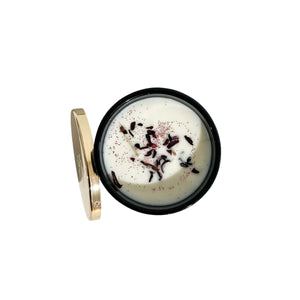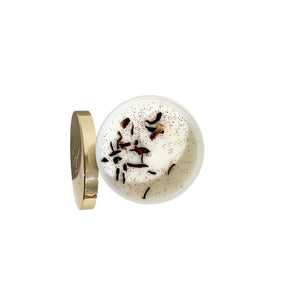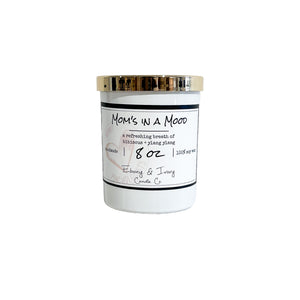 Mom's In A Mood
A candle that is finally perfect for every mood.
Beginning with the tranquil tones of ylang ylang, to which we were delighted to incorporate due to its amusing pronunciation, we ventured onward in the creation of this delightful candle by adding a pinch of tropical hibiscus to take you away on a small respite. Wrapping up, we bestowed upon it the fragrant combination of sweet sandalwood and alluring cedar. Not only will this candle be your refuge from either chaos or boredom, it will likewise embolden you to be the most excellent version of yourself that is conceivable.
We, Caitlin & Chelsea, are so excited to have partnered with the amazing candle company Ebony & Ivory. When starting our candle scent journey, we knew we wanted something that would speak to mom's in many phases of parenting. From newborns to adulthood, raising children is a TOUGH job and we wanted to find a way to create a sweet reminder that mom's can conquer many moods. 
We hope you love this candle as much as we do. xo - Brianne, Caitlin & Chelsea
Each Ebony & Ivory candle is a unique scent created for fragrancing the home. The candles are hand crafted in Canada using phthalate free fragrance oils, 100% soy wax and sustainable cotton wicks.  
Cotton Wick Candles:
Allow the candle to burn until wax melts out to all of the edges of the candle. This is so very important so your candle does not tunnel!

The recommended burn time is 1-2 hours per burn session. 

Avoid burning candle where there is a ceiling fan, air conditioner or breeze. This can affect the flame and make him potentially sad.

Ensure wick is trimmed to 1/4" after each burn session to prevent soot build up on containers. If you are seeing black soot, it's a clear indication to trim your wick.

Burn only on a stable heat resistant surface for no more than 2 hours at a time. 

Do not move candle while burning as container may be hot to touch.

Discontinue use when 1/2" wax remains at the bottom of the container. 
8 oz Candles - 40-50 hour approximate burn time.
16 oz Candles - 80-100 hour approximate burn time.